International Design Competition by the Royal Academy of Arts, London, to evaluate new proposal that addressed the concept "Urban Eyrie" creating quiet havens in the city while allowing a new experience and understanding of the urban environment.
Nitro's proposal (Rosetta Angelini, Antonino di Raimo, Emanuele Tarducci and Giovanni Betti), starts recognizing a crisis. Using 'augmented' materials a new kind of social space is envisioned, capable of metabolizing what is perceived as pollution (atmospheric,visual, acoustic) into a new consciousness of the urban environment.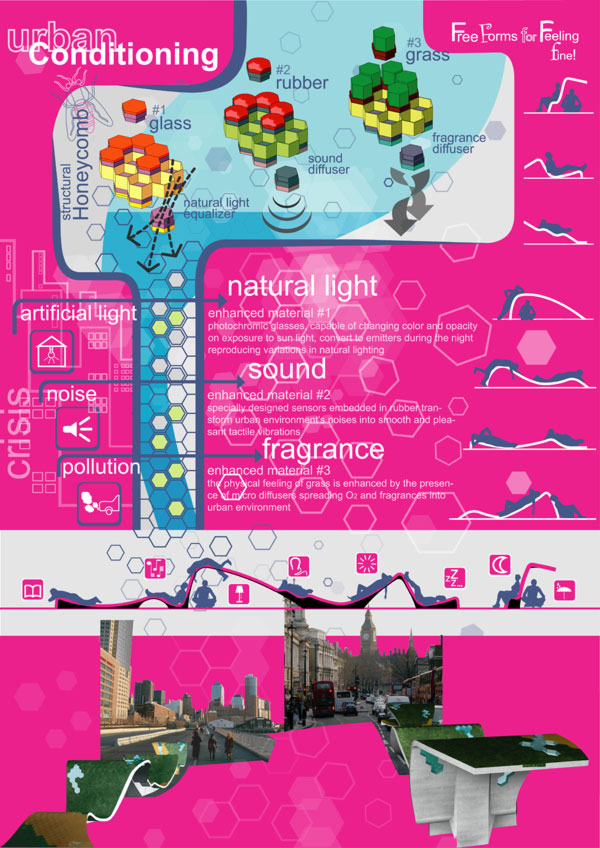 International jury comments on the entry:
Exploits the possibilities of new materials to meet the brief with imaginative and multi-faceted street furniture.
"There are two stories here, the exploration of material science and the humanistic sensibility to how people may relate to one another" -Richard Mc Cormac
"Uses materials and technology that seems within reach" -Richard Coleman
"Will it really be effective in distracting noise, air pollution & the stench of a big city?" -Kisho Kurokawa